Join us for a 30-minute webinar on July 15th from 2-2:30pm EST where we dive deeper into Incentivized Ratings & Reviews Best Practices. Register here or contact us for more information.
Background on online ratings & reviews
Online ratings & reviews play a critical role in shopper buying decisions whether buying online or researching before buying in-store. Because of this, there is significant interest from brands to make sure that their products have reviews when shoppers are searching. There are two kinds of consumer reviews – organic or independent reviews where consumers post on their own after trying a product and incentivized reviews where individuals are provided with some kind of incentive (such as free or discounted product) in return for making a post.
Particular attention on this front is being paid to regulating incentivized reviews. The commonly held belief is that incentivized reviews are much less trustworthy than organic ones – which isn't so much about the reviews themselves, but rather how people think incentives can distort opinions.
Self-selection is the fundamental weakness of organic ratings & reviews
This line of thinking misses the fundamental weakness of organic ratings & reviews, which is self-selection bias. Left to emerge organically, ratings & reviews do not typically accumulate in a way that shows how consumers collectively feel about the product. Instead, they bring to the forefront the opinions of those with the most extreme experiences, who are much more likely to post – especially when the experience is very negative.
Those with "extreme" opinions are much more likely to post reviews
This self-selection bias was explained a few years ago in the Harvard Business Review article "Online Reviews Are Biased. Here's How to Fix Them". Based on research of popular online review platforms, they explained how there was a bi-modal or J-shaped distribution of reviews – many extreme opinions, and few moderate ones.
Brand new Consumer Endorsement research from BrandSpark International has shown the same type of bias exists for product reviews today. In our recent study (with a sample >1,000), if a buyer has a fairly neutral experience, they indicate there's about a 1-in-50 chance that they will post a review. If it's overwhelmingly positive, it jumps to 1-in-10; overwhelmingly negative, all the way to 1-in-4.
Figure 1. Likelihood of posting an online review based on type of experience someone has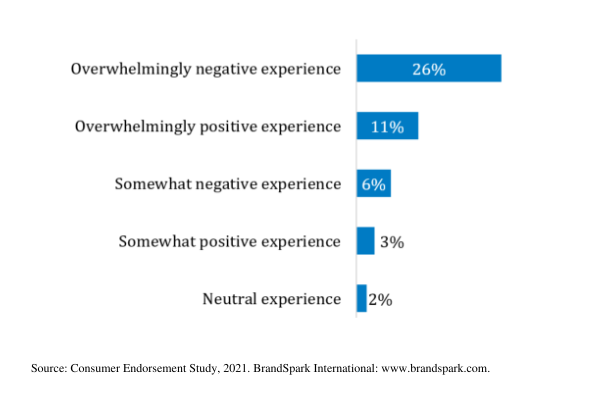 This natural tendency towards extreme opinions – and particularly negative ones – is a significant problem. And it's not one that's naturally intuitive to consumers or regulators, who place an extremely high level of trust in organic reviews.  At an individual review level, those organic reviews should be trusted – individuals are generally sharing what they really think. But at a macro level, organic reviews are collectively misleading, particularly in relation to the likelihood of extreme negative opinions being posted.
For new product and service launches in particular, it adds a high level of variability – and unfairness -in the early stages of launch. Two products of equal quality might have very different success levels, simply because one had a couple of those extremely negative reviews pop up early, and the other one didn't.
Incentivized reviews can help correct for this self-selection bias
Understanding this self-selection bias can fundamentally change how incentivized ratings and reviews are thought of by consumers and regulators. Properly obtained and disclaimed incentivized online ratings & reviews do not create bias that misleads consumers; instead, they help correct the implicit bias inherent in organically generated reviews, where those with extreme and negative experiences are much more likely to post.
Doing incentivized reviews the right way
The word "properly" is important here – paying people to provide positive reviews is obviously not what we're talking about (and what regulators and consumers are rightfully concerned about in relation to incentives). To ensure the truthfulness and reliability for consumers, the core objective is having reviews that are truly illustrative of the overall product/service experience to help them make informed purchase decisions.
This means recruiting a sufficient volume of shoppers that are representative of who would typically buy the product; providing the necessary incentive to ensure those with more "moderate" experiences will post along with the extreme ones; ensuring that the description of experience is based on actual trial and provided with credible detail and providing that incentive in a way the reviewer's only motivation is honesty.
The proper use of disclaimers to communicate with shoppers
From there, the challenge becomes how to best communicate these incentivized reviews to other shoppers. When people hear that someone is being compensated for providing an opinion, they trust it less than if they weren't. This is natural, intuitive and backed up by the recent BrandSpark study.  So how can we ensure that these reviews fulfill their role while ensuring they are not seen as fake reviews and possibly mislead consumers?
Besides the transparent consumer recruitment and product trial process described above, meticulous attention must be paid to ensure that customized disclaimers are applied in a visible way alongside each review that accurately and in a straightforward way communicates the nature of the incentive received.  This is how it's possible to get to understand that on a macro level, incentives actually make the overall collection of reviews more accurate and reliable.  This is important to consumers, brands, and also the regulators who are looking to ensure Canadians can continue to trust online reviews and brands can continue to benefit from this highly impactful form of communication and marketing.
Our next article on Incentivized Reviews will address the current quality and disclosure gap in Canada with Incentivized Review Programs.  We will then follow up with more details about the groundbreaking BrandSpark Canadian research that uncovers the drivers of trust for incentivized reviews. If you would like to know more – please contact the experts at Shopper Army and BrandSpark who have been helping brands with the highest quality Consumer Endorsed Marketing services since 2004.
© Copyright 2001-2021 BrandSpark International Inc. All Rights Reserved. Logos and names are registered trademarks.