In our posts throughout 2020, we showed why pent-up shopper demand made it a great time to be actively promoting new products. This showed an opportunity for product innovation, while our updated 2021 Shopper Study results now reveal an urgent need for brands to innovate to protect and grow market share.
This urgency is made clear by the long-term ascent of private label brands, which shows no sign of abating – and appears to have crossed a critical threshold.
The continued ascent of private label products
We track hundreds of shopper attitudes and behaviours in the BrandSpark Shopper Study, now in its 18th year. Most of these are relatively stable, even over a multi-year timeframe. So, when we see a sustained change in particular attitudes, it is worth paying attention.
Belief in the quality of private label brands is the shopper attitude that stands out the most on this front. As shown in Figure 1, since 2015 there has been a steady increase of shoppers' belief that private label brands are just as good as name brand products. This has been accompanied by a corresponding decrease in those preferring to wait for brand name products to go on sale (vs. purchasing private label options). In 2021, the two lines crossed – representing an interesting threshold being traversed.  In contrast, the percent of shoppers who believe private label and branded products are typically made by the same companies has remained consistent.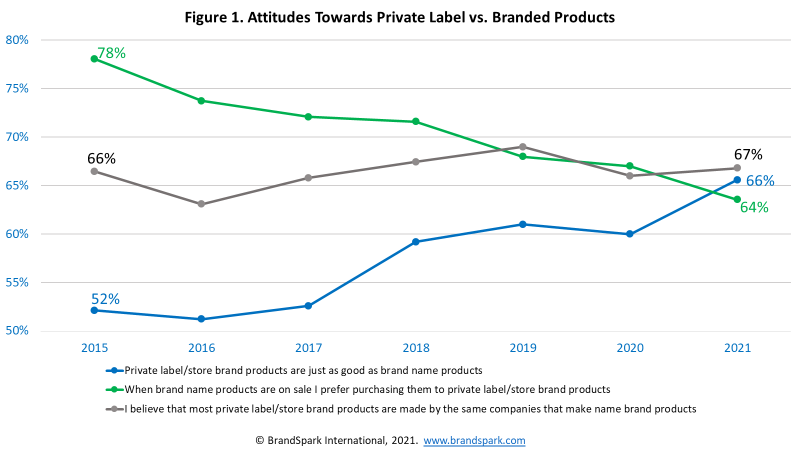 That is a very significant shift over a 6-year time frame – and points to meaningful erosion of branded product market share (across the overall market – the role of private label varies significantly by category).
Not surprisingly, this corresponds with strengthening value perceptions for private label products – and getting value for money is what shoppers desire the most (the trend in the USA is similar).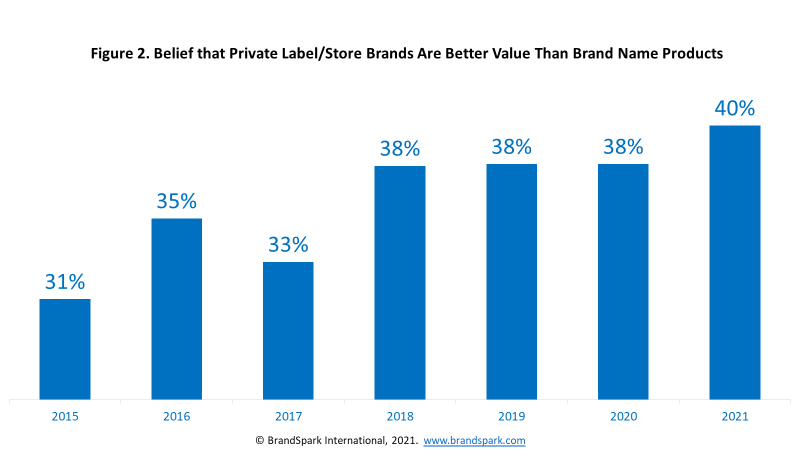 What it means
An ever-larger share of shoppers believe private label products are just as good as branded ones, and they are not willing to wait for branded products to go on sale. This puts the impetus on brands to prove they are truly offering superior products in order to protect and grow market share.
Why better innovation is the key to success
In the face of increased competitive pressure from private label, there are positive indications that brands have an opportunity to turn the tide.
While ever-more shoppers indicate private label products provide the best value, it is still the minority (as shown in the chart above) – even though private label products are almost always priced lower than their branded counterparts. Shoppers continue to pay more for branded products because they still believe in brand-name quality. Amplifying this quality advantage continues to be brands' best way to improve their "value" performance without playing the deep discounting game.
One of the strongest ways to amplify quality advantages is through innovation as 58% of shoppers say they look for products that are innovative. Additional good news is that three other key attitudes also point to the opportunity to reach shoppers with new and better innovations – which they are actually willing to pay for.
The first is that in addition to liking to try new products (which over 2/3rds of shoppers say), even more indicate "I try new products from the brands I trust the most". While private label brands like President's Choice and Kirkland are very strong overall, and do very well in certain categories (particularly in comparison to the U.S.), branded products dominate shopper trust in the vast majority of categories (as proven by our BrandSpark Most Trusted Award winners).
The second is that there has been a steady ascent in shoppers believing Research & Development leads to better products across most categories – with a particular spike in the last year (see figure 3). This is an area where branded products can clearly differentiate from private label ones.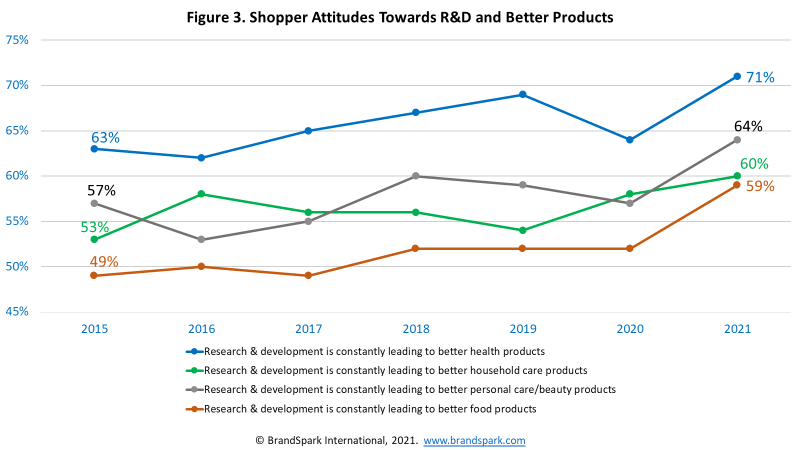 The third is that just under 2/3rds of shoppers indicate they will pay a little more for a new product if they think it's better than what is currently available.
These indicators support the strength of the underlying demand for innovation. However, brands need to innovate better in order to capture it.  The majority of shoppers do not necessarily believe the best innovations come from brand-name products, and that belief is trending in the wrong direction for name brands (we observe a similar trend in the USA where the brand name innovation superiority has dropped even further).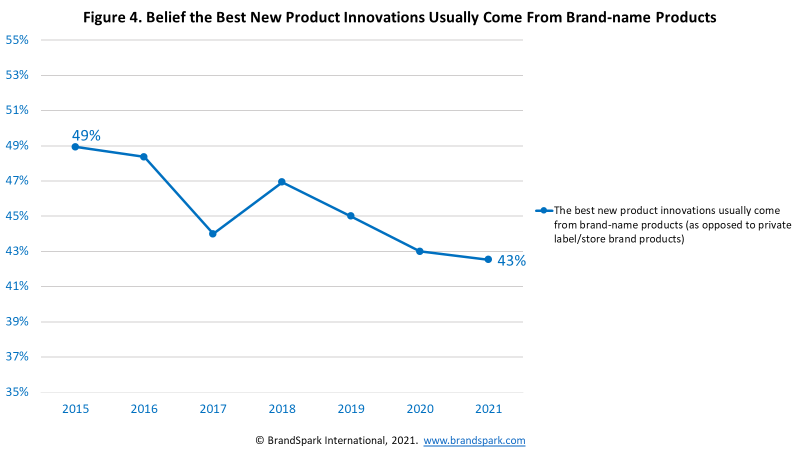 How to win shoppers with better innovations
The most common path to creating superior innovation begins with identifying currently unmet needs. A great starting point for this is understanding what macro changes are happening in shopper attitudes, and then developing and testing concepts that meet these needs.
The other challenge to innovation-success is not the products themselves, but how they are communicated to shoppers, ensuring that a sufficient number of consumers become aware and understand the innovation. E-commerce product listings lend themselves to conveying more information than is usually possible in the store, and as such, e-commerce should play a larger role in new product launches. As we explained early last year, strategies and tactics need to evolve.
In the coming weeks, we'll be highlighting a few key things that Canadian Shoppers are increasingly seeking, and how this compares to the U.S.
Contact us if you're interested in insights specific to your category or help in developing your launch strategy further. We can help you succeed at key points along the 2-to-3 year path typically needed to successfully launch new products, and provide unique ways to optimize your e-commerce launch strategy.
© Copyright 2001-2021 BrandSpark International Inc. All Rights Reserved. Logos and names are registered trademarks.