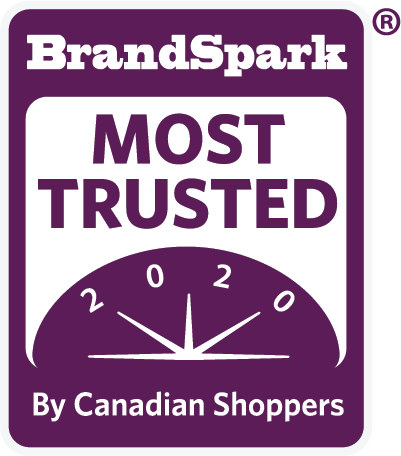 BrandSpark just released the results for its 7th annual BrandSpark® Most Trusted Brands Awards which are based on the BrandSpark® Trust Study, the largest of its kind in Canada and the United States.
The Trust Study reveals which brands are most trusted by shoppers in over 150 diverse categories. Obviously the release of these results (the Study was conducted prior to the COVID-19 virus pandemic being a factor) coincides with a dramatic change in the shopping landscape as North American shoppers adapt to the reality of evolving COVID-19 protocols – and marketers try to quickly adapt as well.
As this plays out, many brands are naturally focusing early messages on communicating employee and supply chain precautions, which makes sense – and helps build and maintain shopper trust. But once so inclined to return to marketing campaigns, we believe many leading brands should strongly consider focusing on brand messages that reinforce trust, particularly at a more emotional level. This is especially true for leaders in "stubborn" categories, where willingness to change brands happens rarely – and now could potentially prove to be one of those times.
Why place a particular focus on brand trust messaging now?
There are several factors coming together to point towards brands focusing on trust messaging now.
One, shoppers are naturally looking for reassurance – and reminders of why they trust a particular brand should resonate to deepen connections, particularly when attached to real efforts to demonstrate support of customers and the community in general during this crisis. Being genuine and authentic, always hallmarks of effective trust communications, have never been more important than they are today.
Two, brands need to keep in mind that it's during times of change when shoppers may become willing to reconsider what brands they are purchasing, and why. For example, BrandSpark learned in recent years that when people have kids, they become more open – for a short period of time – to changing a variety of the brands they use, even in categories that have nothing to do with kids. Essentially, a major change in life leads them to reconsider various choices they make, and then they settle into new norms. While it is hard to predict what will happen in the coming weeks and months, there's definitely a degree of change that could potentially lead to shoppers being convinced to switch to something different, possibly on a mass scale.
Three, many shoppers will have a lot of spare time on their hands. Most marketers know how difficult it is to get shoppers' attention, given all the different sources of information and entertainment competing for it. The reality of social distancing (and things like the wholesale cancellation of professional sports, etc.) frees up time and attention. On the good side, this means a better chance for your brand message to get through; on the flip side, it provides opportunities for competitors to reach some of your customers that may have ignored them in the past.
Four, practically speaking many brands in certain categories (particularly within food and household) are seeing short-term sales take care of themselves, and retailers scaling back promotional efforts as that is not what is needed now. So it frees up time and budget to re-allocate. At the same time, it allows agencies to keep working to support these brands in a meaningful and valuable way.
What is brand stubbornness and how does it play in?
Figure 1 below shows the BrandSpark® Shopper Trust & Stubbornness Framework (which you can read about in more detail here). The x-axis (horizontal) – size of trust lead – is based off of our BrandSpark Most Trusted Awards program voting results. The further a category is to the right, the larger the trust lead is. The y-axis (vertical) is shopper stubbornness, which is based on additional questions in the BrandSpark Trust Study focused on how willing shoppers are to switch from most trusted brand to their next alternative. The higher up a category is, the less likely shoppers are to switch.
Where your category is positioned within the matrix can help inform what the ideal strategy and tactics are to take, and what the expected results may be.
Figure 1. BrandSpark Shopper Trust & Stubbornness Framework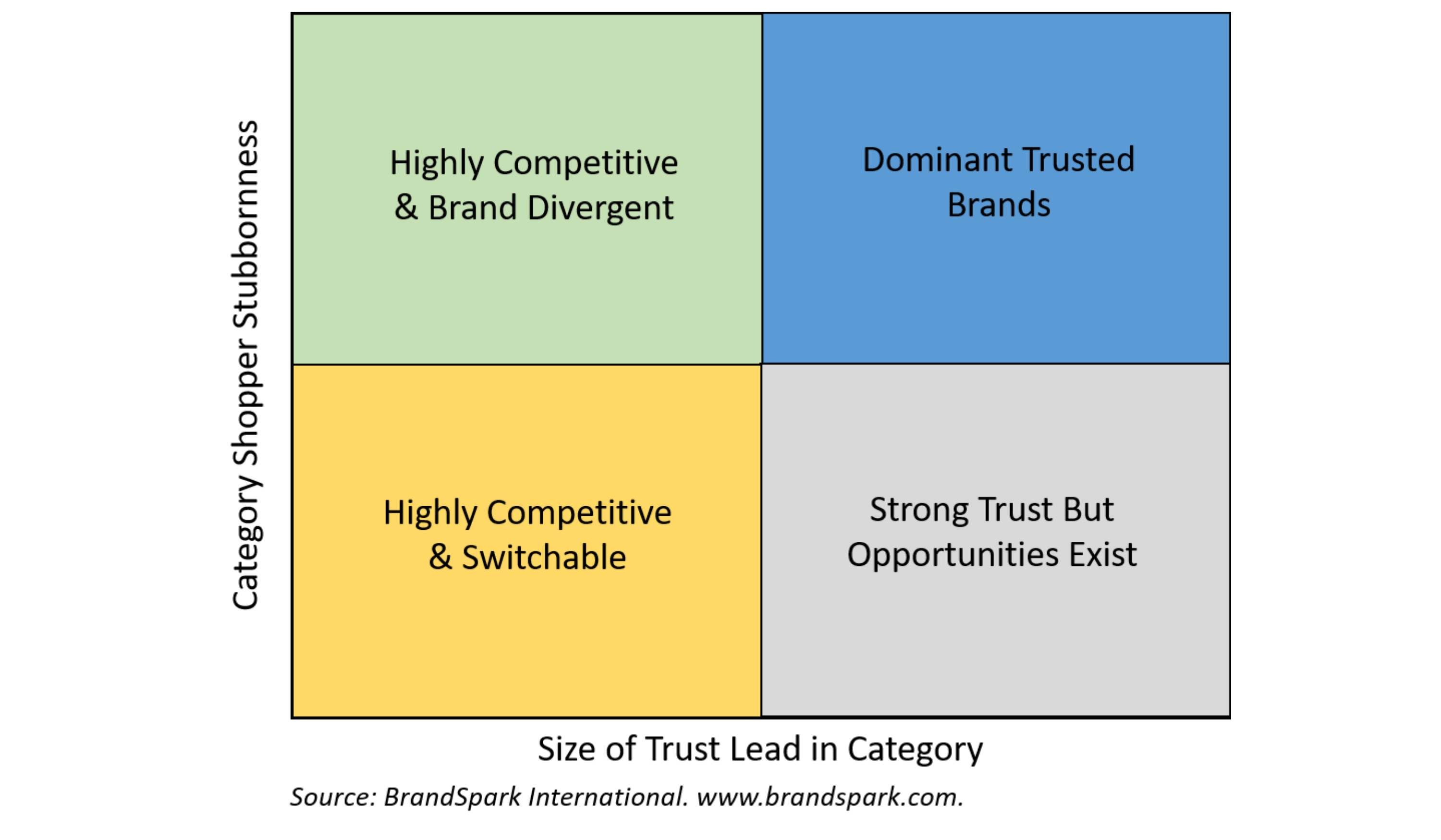 Categories in the two upper quadrants are considered "stubborn". In short, shoppers rarely change their minds and tend to stick with what they know (with the key difference being whether one brand dominates, or there are several top competitors). Because of this, our advice (barring significant innovation) is typically focused on the long-term, and/or the importance of getting to shoppers when they are making their brand selections early in their life or at certain life stages like having children. Day to day, week to week, shoppers are fairly locked in on their preferences.
But as noted, we are entering into uncharted territory. While investments focused on trust can pay off across all categories, today we are focusing on the stubborn ones because of the potential rarity of the moment – a time where a critical mass of shoppers may either be or become open to changing their mind. We're not saying they necessarily will – like everyone else, we're actively trying to figure out this rapidly changing environment. Rather, the conditions are potentially there, and marketers need to be prepared for it.
Example Dominant Trusted Brands: Quaker Oatmeal, Crayola and Tide
Brands in this upper quadrant are in an enviable position: they have a substantial lead on trust over the nearest competitor, and very stubborn shoppers unlikely to switch brands. Quaker (oatmeal), Crayola (children's colouring), and Tide (laundry detergent) are three such examples of the 25+ categories that landed in this quadrant. While a number of factors explain the success, offering great value is critical for this type of dominance – what price premium is in place vs. competitors is reasonable given the quality difference. These brands also don't rest on their laurels and have a strong track record of meaningful and sustained new product innovations.
As previously described for leaders in this quadrant, investments in trust are typically around playing long-term defense. Now might be one of those times for brands to connect with shoppers on a deep level and remind them who they can trust for a healthy breakfast, help educate and entertain their kids, or communicate on a more emotional level even when talking about everyday tasks like keeping their clothes clean. Doing so might be that little nudge to ensure this is one of the brands that consumers should just stick with and refuse to even consider an alternate. From the challenger brand perspective, this may be a time to try to make a change in the landscape, generally by focusing on a particular niche of customers they might be able to win over. Barring something substantial happening (like the leader having a major issue or setback), going after everyone is likely a mistake for challengers in this quadrant.
When thinking about the specific type of messaging, it's important to note that leading brands in this quadrant obviously do not need to do a lot of convincing. They are called dominant trusted brands for a reason. Instead, it's about reminding people of why they are the most trusted, to help ensure that brand strength remains intact. And if you happen to win over a few more of the rare shoppers that trust another brand more, all the better.
Highly Competitive & Brand Divergent Categories: Coffee, Food Storage, Shampoo & Conditioner
Coffee is a great example of a highly competitive and brand divergent category – meaning that while no single brand has a substantial lead, whichever brand a shopper chooses is the one they tend to stick fiercely with. For coffee, there is actually a 4-way tie in Canada between Maxwell House, Folgers, Nescafe and Tim Hortons. It's also an example of how categories can evolve over time if leaders aren't careful, as Maxwell House was the sole leader not too many years ago. Other categories with similar trust and stubbornness dynamics today include food storage, shampoo and conditioner, a variety of different baby categories, and many others.
Shoppers looking at categories in this quadrant will not change preferences easily unless given a very good reason, so brands will have to work hard to convince them. However, as noted brands may find shoppers more willing to at least explore the idea, simply because they have more time and may be experimenting with shopping more online. Online ratings and reviews, which are extremely influential, can also play a particularly important role in trying to win over shoppers in these categories.
Then there are categories with a strong brand that is most trusted by the majority of shoppers, followed by niche or specialty brands that command strong loyalty among their smaller base of consumers. Examples from the 2020 US results include insect control (led by Raid), cough lozenges (led by Halls), and milk alternatives (led by Silk).
Considerations for brands in non-stubborn categories

It's not that brands in non-stubborn categories should not be thinking about trust. In fact, categories in the bottom right quadrant in particular could be looking at some dramatic swings. These are categories where a single brand has a large lead, but shoppers are generally easily willing to switch to the closest alternative. A big focus here should perhaps be placed on seeking opportunities to elevate into the upper right quadrant, which we'll look at in an upcoming article.
The importance of getting the trust messaging right
Above we talk about brand trust and stubbornness at a very high level, with a particular focus on "stubborn" categories. Understanding where your category sits is an important first step, from which each individual category and brand faces a unique situation – and a variety of factors plays into what the "right" messaging is. The importance of testing and gauging responses is particularly heightened during these stressful times, as a brand that makes a crucial error – such as attempting humor to bring joy and relief, but having it come off differently – can be very negatively impacted.
We'll be sharing insights into the type of messaging shoppers are looking for, at a high level, over the coming weeks. But brands that truly want to understand their category in a brand trust/ stubbornness context, and figure out what is best do, are encouraged to reach out to us to discuss. BrandSpark has a variety of ways to help, from syndicated research, to detailed quantitative trust drivers by category, and of course custom research design.