Online traffic to e-commerce sites in March showed a sharp increase to leading mass retailers and grocers, led by Walmart as well as Amazon. This spike in online shopping for food and household essentials is to be expected as we seek to stay-at-home and maintain social distancing.
We also recently showed that the upheaval of the COVID-19 crisis has actually made Canadian shoppers more receptive to the new experiences and innovations offered by new products. New products are a traditional lifeblood for brands to keep up with the evolving needs of consumers and compete with private label, and for retailers to drive traffic and grow baskets. But it's always been challenging to break through: even among the thousands of Best New Product Award (BNPA) nominees we've studied over the last 17 years (a sample generally representative of successful product launches), on average only 1-in-3 category shoppers is aware of the new product after more than one year in market.
In the current environment consumer needs are evolving and retailers are shifting online, where driving impulse and growing basket size is even more challenging. Acknowledging both of these shifts, it is clear that e-commerce must begin to play a larger role in new product launches. However, new products need to be launched online differently than in traditional stores.
In the annual BrandSpark E-commerce Shopper Study about 50% of shoppers told us they were more likely to find new products in store, but the other half said they discover new products more frequently when shopping online. However, many also told us they are often overwhelmed by the choices online (See figure 1.). Online marketplaces like Amazon and Walmart usually have extensive listings, but they also promote a small list of leading products to the top of shoppers' search results providing brands with the challenge and opportunity to ensure their new products stand out.
Figure 1.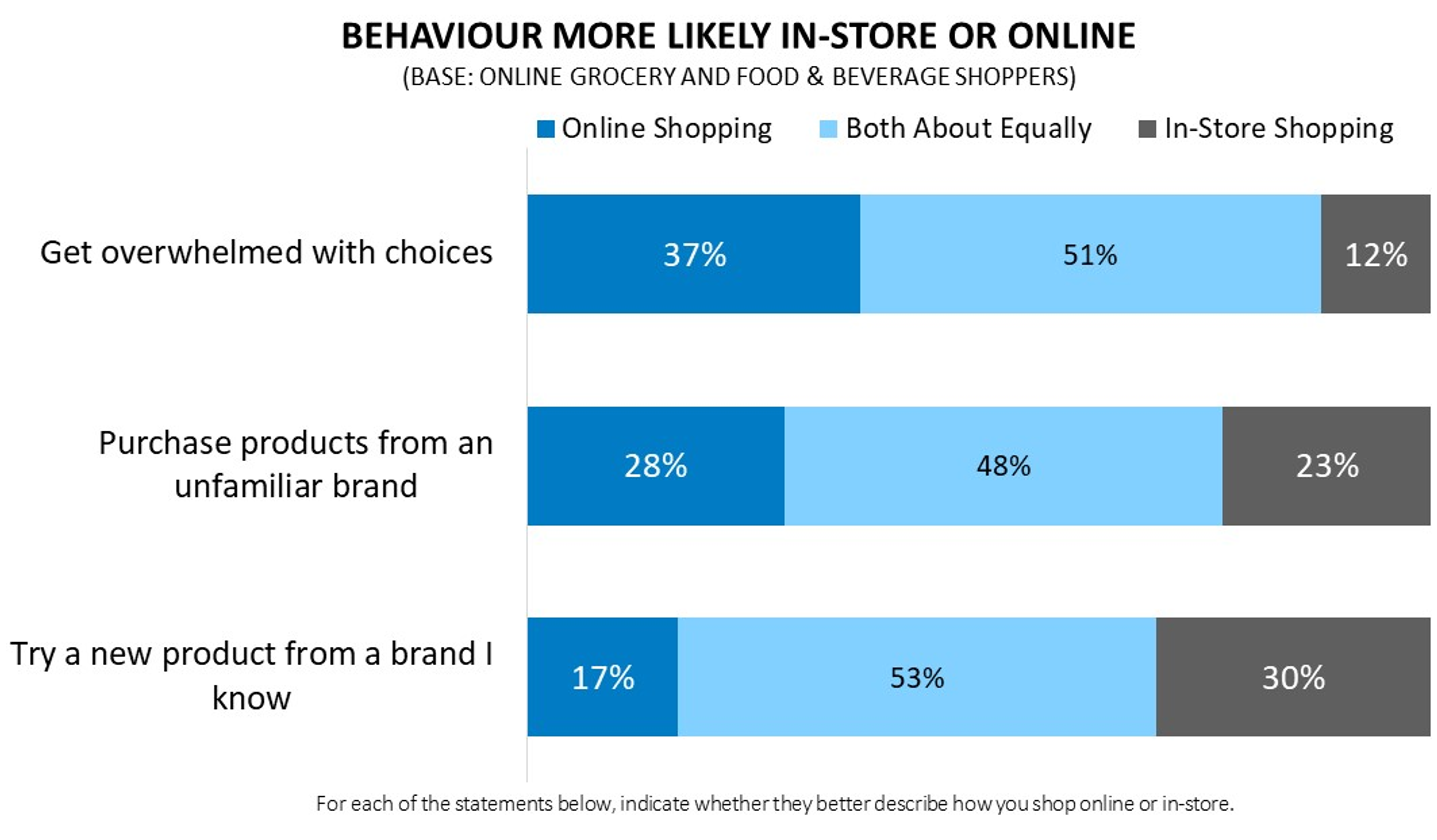 Many large brands have until now been deciding not to support their new product launches on e-commerce, and rather focus their e-commerce efforts on established hero SKUs. With category share online typically low, this helped ensure that brands would see sufficient purchases to warrant the investment in their product pages, store setup, and the large advertising spend that e-retailers are insisting they need to make.
That however has left an opening for challenger brands to present their innovations to online shoppers who are looking for something new or different than what is offered by the top handful of SKUs in the category. Those shoppers who are motivated to explore more broadly, or who are seeking more personalized or unique products, are likely to encounter a range of choices far exceeding what is typically found in-store. In this way numerous innovative and niche brands are chipping away at the online share of the in-store leaders. The current situation has dramatically accelerated the shift to online shopping which many experts believe will lead to a permanent growth and acceleration of online shopping and this coupled with the opportunities presented to challenger brands makes this an imperative for brands.
It emerges that a key strategy for leading brands to protect share as sales migrate online (and for challenger brands to break through to new customers) is to make sure that new innovations are available online, and that they stand out among an expanded competitive set.
So what should brands be doing to win when launching new products online?
Ensure your new product listing features high-quality consumer Ratings & Reviews as soon as possible.
We just posted an article about the recently elevated importance of online Ratings & Reviews. Progressive brands are recognizing the crucial role played by the consumer voice and are pre-seeding products with their target consumers to ensure that reviews are available and ready at launch. We expect many of the major retailers to soon require that all product listings, including new launches, feature authentic Ratings and Reviews.
Leverage the authority of the Consumer Voice with exclusive credentials to position your product as irresistibly superior.
Given the ease of updating product pages and descriptions online, credentials can be an easy and cost effective way of adding the consumer voice of authority to your selling proposition. We know from our research over the past 17 years that credible consumer-voted awards are influential toward the purchase of new products both in-store and online. This includes our Best New Product Awards credential, the most impactful award for new products, and our leading brand trust credential, BrandSpark Most Trusted. Shopper Army's Tested by Real People certification is also available to close the gap by providing a seal of consumer approval at launch.
Move to online-based sampling and activations.
Many new product launch programs such as sampling and in-store activations have been cancelled or indefinitely postponed during the COVID-19 crisis. Fortunately other options exist. Online platforms like Shopper Army can dramatically improve targeting by finding real shoppers using rebates instead of coupons or free product distribution.
Use Precision Targeting to get your new product in front of the right shoppers online.
The most common complaint about traditional advertising is the lack of precise targeting, leading to wasted spend that isn't reaching the consumer target. With the right e-commerce data, you can identify and target your ideal consumer more precisely, i.e. those predisposed to be interested in your new product.
Our Shopper Army digital platform provides tools to help optimize online marketing, including providing real e-commerce shopper behaviours in order to generate effective lookalike audiences that can be leveraged across multiple retailers. This can provide brands with the ability to target potential consumers via the advertising medium of their choice.
Of course marketing your product online still requires excellent execution of traditional tactics including target identification, message optimization, pricing strategy, and appealing packaging (also optimize your product page content!). But the new tactics are an additional requirement to standout and stay ahead of the competition.
BrandSpark has the unique insights and platforms to help brands navigate this urgent transition which will likely lead to permanent shifts in shopping behaviour. Brands that master the new landscape now will ensure their market share and sales are preserved or enhanced.
For more information, please contact info@brandspark.com