The cancellation or postponements of events and festivities has become normal during the COVID-19 pandemic. With the Halloween and the Holiday Season fast approaching, Canadians are faced with the tough decision of how to participate and celebrate this year. In a recent survey fielded October 1st to 4th, BrandSpark's Shopper Army community revealed their intentions for the upcoming holidays with respect to purchases of confectionary including candy and chocolate. The findings reveal that Canadians will celebrate cautiously this Halloween and Holiday Season and they are likely to modestly reduce their purchases in key categories. Marketers can address this challenge with suggestions on safe ways to celebrate that incorporate their brands into the festivities.
Halloween
About 4 in 5 Canadians reported that they give out chocolates or treats at Halloween in a typical year. When asked if they plan to do so this year, nearly 7 in 10 said they would participate so long as there is not an official recommendation or order against the activity.
When it comes to buying chocolates or other treats this coming Halloween, almost 4 in 10 are anticipating less traffic at their door and plan to buy 'somewhat less'. 
Two in five survey respondents have kids at home who typically participate in trick-or-treating. This year, 44% said their kids are very likely or somewhat likely to go to trick-or-treating door-to-door, however 42% said their kids were unlikely to continue that tradition this year.
Among those whose kids are likely to go trick-or-treating door-to-door this year, parents were likely to say they don't want their kids to miss out on a fun tradition. Several parents thought the event would be a nice chance for a normal celebration and a relief for kids who've also had to carry anxieties during the pandemic. These parents feel that as long as they are strictly following the rules set out by public health officials, such as proper social distancing and wearing masks, then the activity is low risk. Several also argued that their area or region has few cases and so they are not highly concerned. This was most common for those in Atlantic Canada.
"It's the only bit of normalcy the kids have been able to have since March. We will be safe and still respect rules but the kids deserve to have fun"
 "If they can, they will, a lot has changed for kids and hopefully they get their Halloween. As long as they are masked and attempt to keep some distance, I am ok with them going out."
"We live in Newfoundland where COVID-19 cases very low (we are very lucky) so we feel it is safe to go trick or treating."
Other parents do not feel that it is worth taking the risk and would rather find another way to celebrate. These parents cite how they can't control other people's behavior and worry that social distancing will not always be possible while trick-or-treating. Concern with how the candy has been handled is secondary, but also significant among this group.
"Not confident everyone will be wearing facial masks, and worry about kids getting too excited and not remembering physical distancing."
 "I don't trust other people's hygienic standards during this extraordinary time."
Many parents are looking for unique ways to celebrate Halloween at home, without their kids going out for trick-or-treating door-to-door. These parents intend to purchase treats for the kids (though perhaps not in the quantities and formats common for trick-or-treating).
"It is too risky with COVID case #'s rising. I would rather buy my kids candy in advance, and have a fun movie night at home."
"I will buy them candy and treats but i don't feel safe letting them go door to door and getting near neighbours and accepting treats that have been touched by others."
Suggestions and tips on how to keep trick-or-treating safe for kids and how to handle the candy at home may reassure some parents. Concurrently, ideas for at-home Halloween celebrations and games involving Halloween treats may help parents.
Holiday Season
Looking ahead to the Holiday season, it's not a surprise that 8 in 10 of the people surveyed anticipate fewer gatherings this year.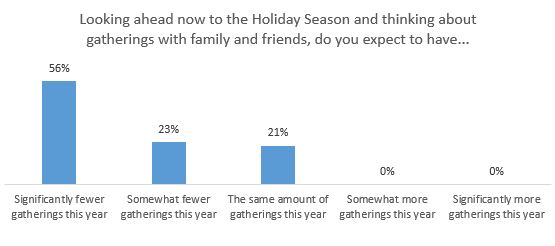 Sweets are a popular choice for gifting during the Holiday season. Most Canadians (93%) typically purchase chocolate during the Holidays, whether for gifts, sharing, personal consumption, or other reasons.
However with few gatherings anticipated, one in three Canadians expect to buy less chocolate this year. Meanwhile, more than half expect to buy same amount as in a typical year and 10% expect to buy more.
About 4 in 5 chocolate buyers plan to purchase Christmas chocolate this year in-store. Additionally many plan to buy online (44%) and have it either delivered or picked up in-store. Those planning delivery may be interpreted as a proxy for Amazon.ca and similar services while those who intend to buy online and pick-up in-store will be primarily using grocery click-and-collect services like PC Express.

Demand for Holiday chocolate will continue to be high this year, but in order to match prior years it may be necessary to get Canadians thinking about new ways to share and gift the chocolate that they would have given in person. Online purchase as a gift may be able to play a large role there. Canadians stuck at home more often than usual during the holidays may also find that they consume more chocolate at home than they typically would have, and find themselves repurchasing more often throughout the season.
Contact
Philip Scrutton, VP Shopper Insights (pscrutton@brandspark.com)
Ria Darisan, Sr. Research Manager (rdarisan@brandspark.com)